ΔΑΙΔΑΛΑ - ΑΝΟΙΧΤΑ ΠΑΝΙΑ

Εκδήλωση παρουσίασης νέων καλλιτεχνικών έργων από τον Δήμο Χανίων στο πλαίσιο των δράσεων "Ανοιχτά Πανιά", σήμερα 10/06 στις 21:00 στον Κινηματογράφο "Κήπος". Με μεγάλη χαρά είμαστε μαζί με την εικαστικό Ναταλία Μαντά και τον κινηματογραφιστή Georges Salameh, ανάμεσα στις 15 ομάδες που επηλέχθηκαν με το έργο "ΔΑΙΔΑΛΑ" για μια εικαστική εγκατάσταση φωτογραφίας και γλυπτικής, που θα πραγματοποιηθεί στην πόλη των Χανίων το φθινόπωρο του 2021.
Presentation of new artistic works by the Municipality of Chania in the context of their open call "Open Sails", today 10/06 at 21:00 at the Cinema "Kipos". We are very happy to be with the artist Natalia Manta and the film-maker Georges Salameh, among the 15 groups selected with the project "DAIDALA", for an art installation of photography and sculpture, that will take place in the city of Chania (Crete) in the fall of 2021.
10 June 2021
951 GASPRA
Some creatures of the underworld I designed six months ago in the context of the workshop 'Extra-terrestrial ethnographies of the future-present', organized by SNF and Columbia University, as a member of the group 951 Gaspra.
See the whole work
here
(and 951 Gaspra's team at pages 37-67).
15 May 2021
BRITISH JOURNAL PHOTOGRAPHY
In the last issue of
British Journal Photography
in April 2021 Cat Lachowskyj is mapping places related to the contemporary cultural scene of Athens, including
zoetrope.athens.
6 May 2021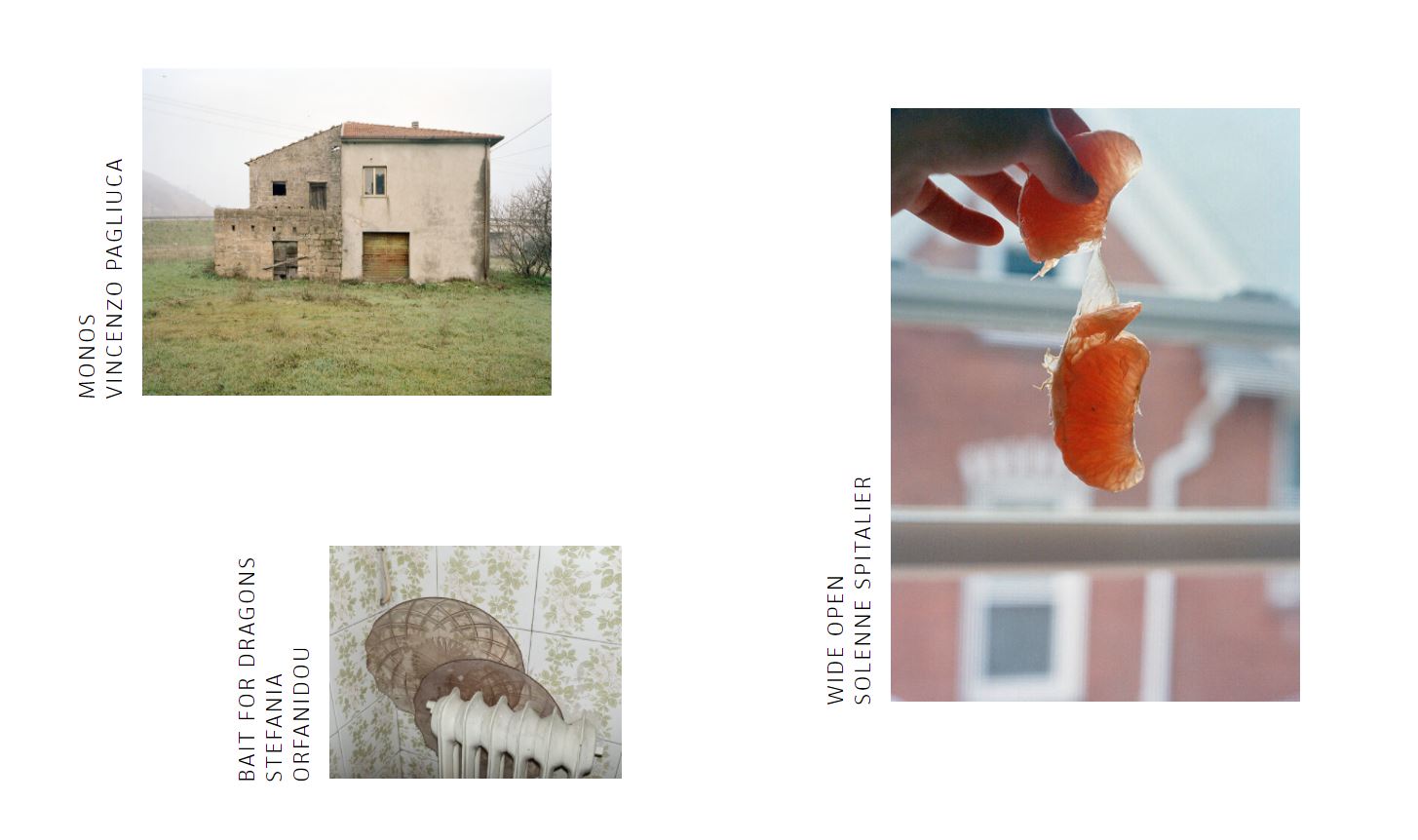 PHASES MAGAZINE

'Bait for Dragons', part of the work 'Profanation Exercises', featured in
Phases Magazine.
22 March 2021
WE CHANGE THE PICTURE

21 γυναίκες φωτογράφοι, στέκονται απέναντι στη βία, στον σεξισμό, στον συντηρητισμό και στην ανισότητα δημιουργώντας την πρωτοβουλία "WeChangeThePicture", ως μια κίνηση εκδήλωσης συμπαράστασης και υποστήριξης προς όλες τις γυναίκες.
21 γυναίκες φωτογράφοι παραχωρούμε, η καθεμία, από ένα φωτογραφικό μας έργο, το οποίο θα διατεθεί σε 21 αριθμημένα και υπογεγραμμένα αντίτυπα, με σκοπό να συνδράμουμε στο έργο του
Διοτίμα - Κέντρο Γυναικείων Μελετών και Ερευνών / CRWI Diotima

,
που παρέχει νομική και ψυχολογική στήριξη στις γυναίκες που βρίσκουν το θάρρος να μιλήσουν.
Η εικόνα πρέπει ν΄ αλλάξει! Ας προσπαθήσουμε να την αλλάξουμε όλοι μαζί.
Συμμετέχουν: Αθανασία Παπαδοπούλου | Αλεξάνδρα Ρίμπα | Αλεξία Πρασσά | Αρέτα Περιστέρι | Άρτεμις Πυρπίλη | Έλενα Ντι γκιόσια | Ελένη Παπαϊωάννου | Καλλιόπη Πασσιά | Κάρμεν Πολυδώρου | Κορνηλία Σιδηρά | Λία Ναλμπαντίδου | Λίλη Ζουμπούλη | Μαγδαληνή Μπαρδάκα | Μαγδαληνή Κούρτη | Μαρία Καρκανάκη | Μαρία Χουλάκη | Όλγα Δέϊκου | Σοφία Τολίκα | Στεφανία Ορφανίδου | Τάνια Καμίδου | Χλόη Πίσσα
As 21 female photographers, we stand against violence, sexism, conservatism and inequality. We created the initiative "WeChangeThePicture" to show our support towards all women.With this action we are trying to stand next to all women who have been victims of verbal, physical and sexual violence within their family or work environment.
Read more and support by donating here:
https://www.wechangethepicture.com/
22 February 2021
ARTWORKS
Presentation of my photographic work at
ARTWORKS

19 February 2021
10 YOUNG GREEK ARTISTS

Today, featured in
Lifo
printed magazine, issue 670, amongst 10 greek artists!
Check also the
online publication
that includes also a small interview.
28 January 2021
ANTI-POSTCARDS FROM CRETE

Today, featured in the blog of
DirtyHarry,
with the photograph 'Aptera'.
15 December 2020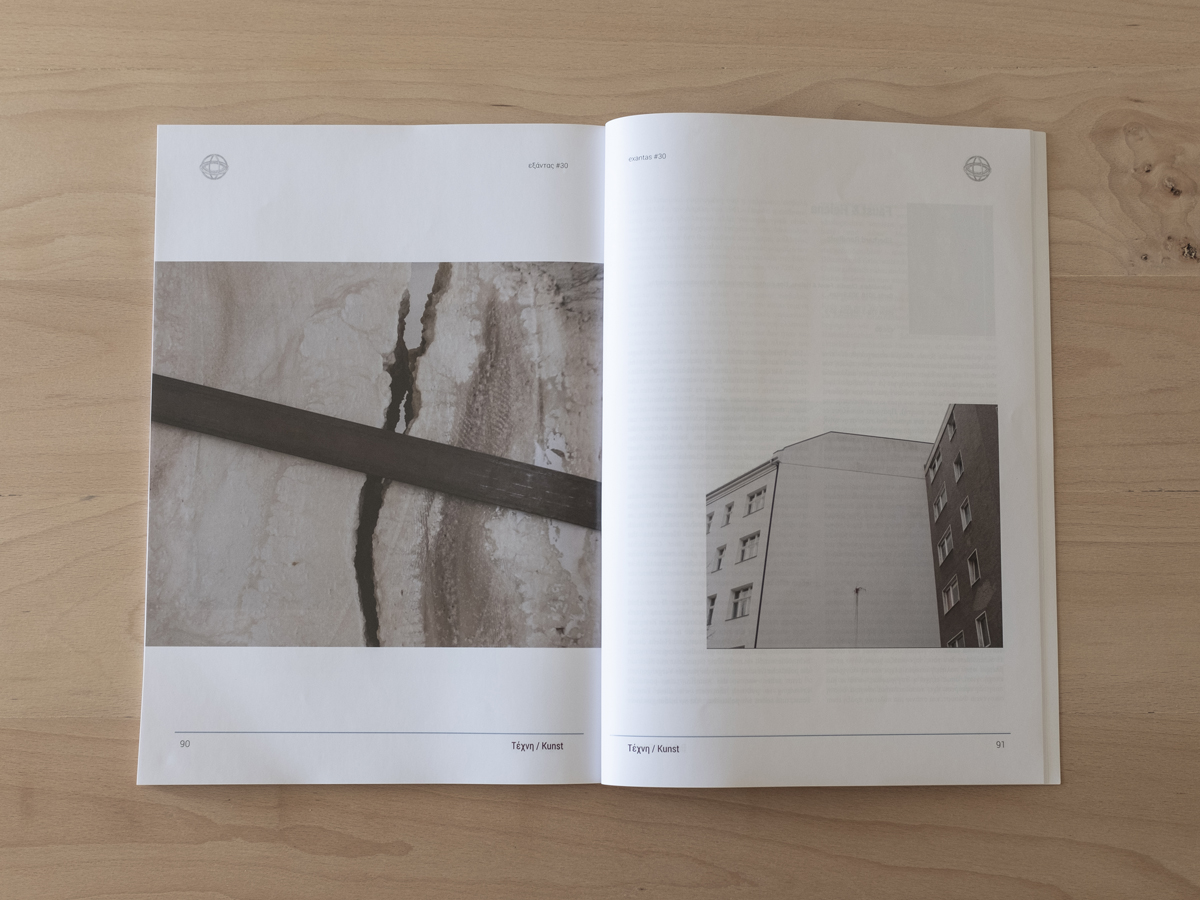 EXANTAS MAGAZINE

The project
'Unseen'
(Afaneis) is featured in the Kunst (Art) section of the
Exantas Magazine
,
issue 30,
published in Berlin in December 2019.
Exantas is a Greek-German magazine, that focuses on political, social, historical and cultural issues.
'Unseen' (Αφανείς) is composed by a text and a series of images referring to the spatial and social segregation in the city of Berlin, the endless process of (re)integration, the social discriminations, the search of an identity, the displacement of the unseen of the city.
Many thanks to the redactor Georgios Laios for his invitation.
7 August 2020
EXTINCTION BOOK

The physical copy of the book 'Extinction: The world without us' finally arrived from Italy to Athens. Really happy to see part of 'Cache' featured in it, amongst other 29 selected photographic works.

The book was published by Urbanautica Institute, based in Italy.

30 June 2020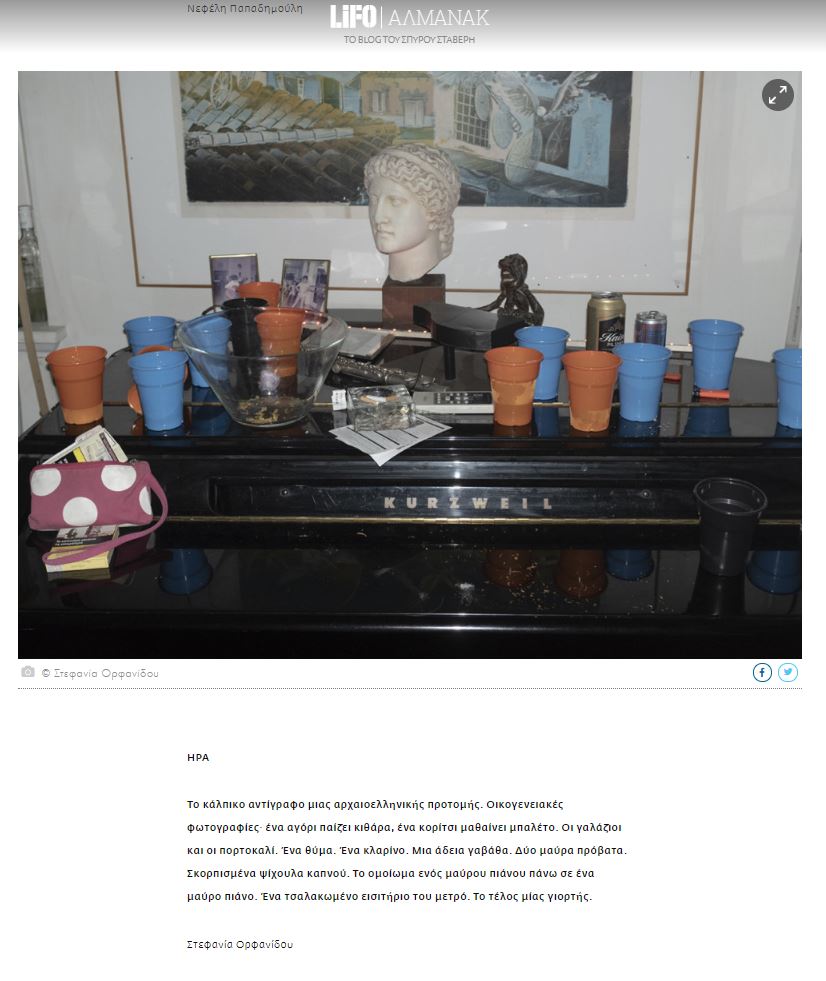 Hera

'Hera' is part of
the-chain
of photographs and texts exposed since yesterday at the website
KanenasMonos
(Nobody alone).
'Hera' describes the end of an era, the end of a feast.
Thank you
Lifo
for your publication.
12 May 2020
The-Chain

11 May - 18 May 2020
Online photography exhibition at the platform of the campaign 'Covid19:Kanenasmonos' (Nobody alone).
Curation by Yorgos Karailias and Yannis Karpouzis.
More info in greek
here.
9 May 2020
Extinction Catalogue

Urbanautica has launched the book "Extinction: The world without us", featuring 30 photographers. I am very honored to be part of this edition with my work "Cache".
You can order a copy at the price of 25 euro + shipping cost.
https://www.urbanauticainstitute.com/books/extinction-catalog
13 February 2020
Kavala

I thank deeply all those who came to Stegi Kavalas the night of the 11th January. It was a really moving and beautiful night. Special thanks to FOK - the
Photographic Club of Kavala
for its invitation and to Stegi (Στέγη Φίλων Γραμμάτων και Τεχνών) for its hospitality.
18 January 2020
---
---
The Pikap Community

Today part of my project 'Cold Turkey' is featured in
The Pikap Community

,
that embraces artists that have a connection with the city of Thessaloniki.
14 December 2019
---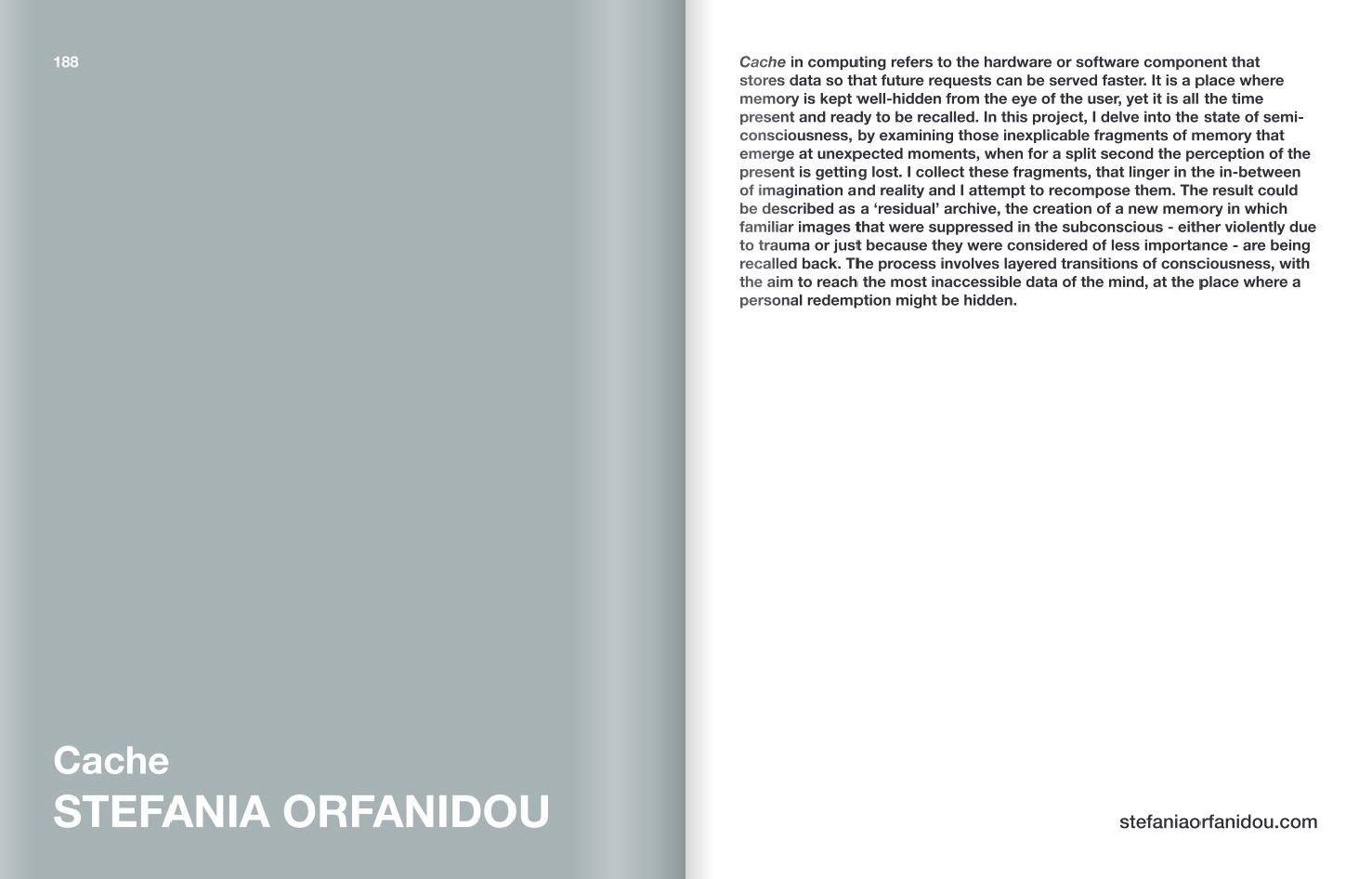 ---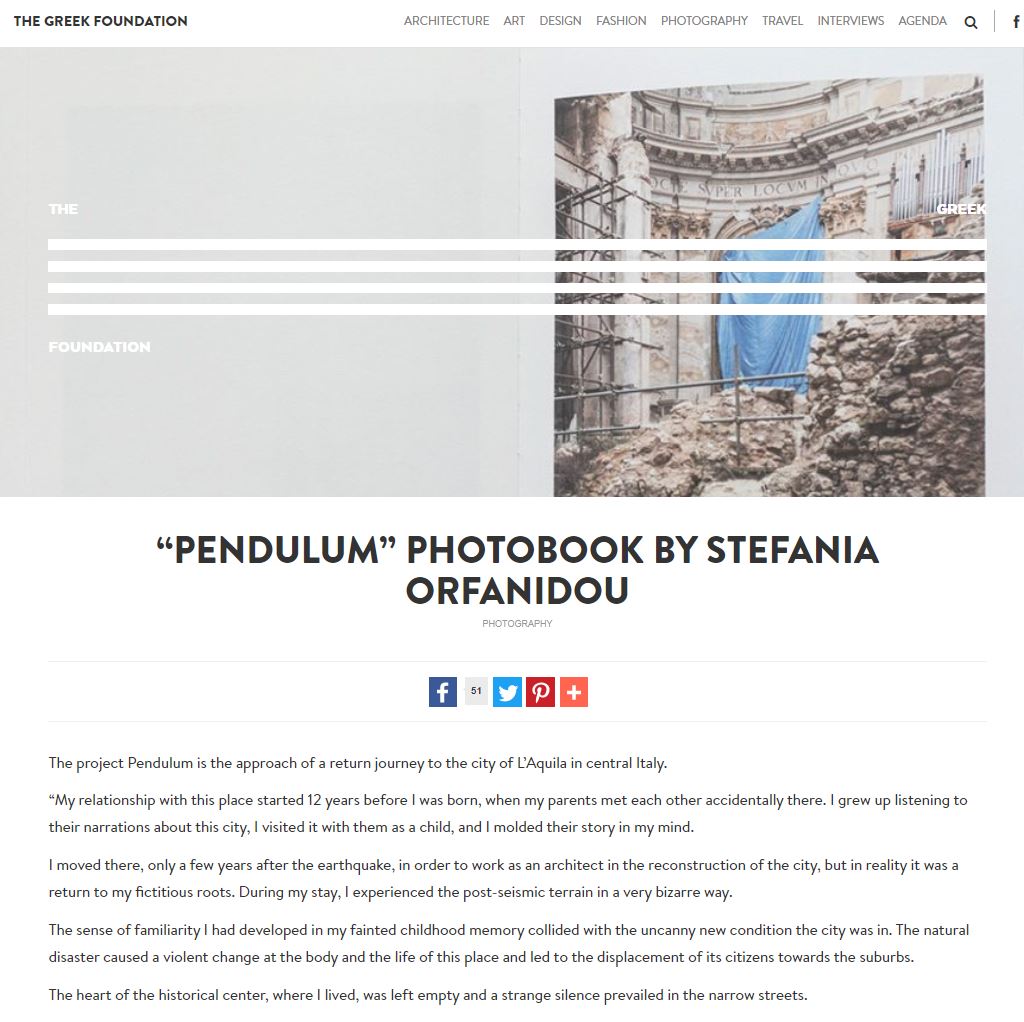 ---
Pellicola Magazine
Today, a really nice
article
on my work 'Pendulum', by Costanza Francesconi!
30 October 2019
---
---
---
'
Pendulum' presentation at the bookstore Polarville
Two weeks have past since my last visit in the city of L'Aquila in central Italy. I would like to thank warmly the bookstore
Polarville L'Aquila
for its hospitality and to
Luna Stefani, VIVIAMOLAq
and Michele Valente for the impeccable technical support. The mini exhibition and presentation of 'Pendulum' book, back at the heart of this project, has been a really moving experience for me. Special thanks to my dear friend
Alessandro Chiappanuvoli
for his short introduction and the discussion that followed afterwards and to all of my friends and those who were present.
'Pendulum' book is still available at the bookstore. For those in L'Aquila or close there, pass by to have a look at it!
14 October 2019
---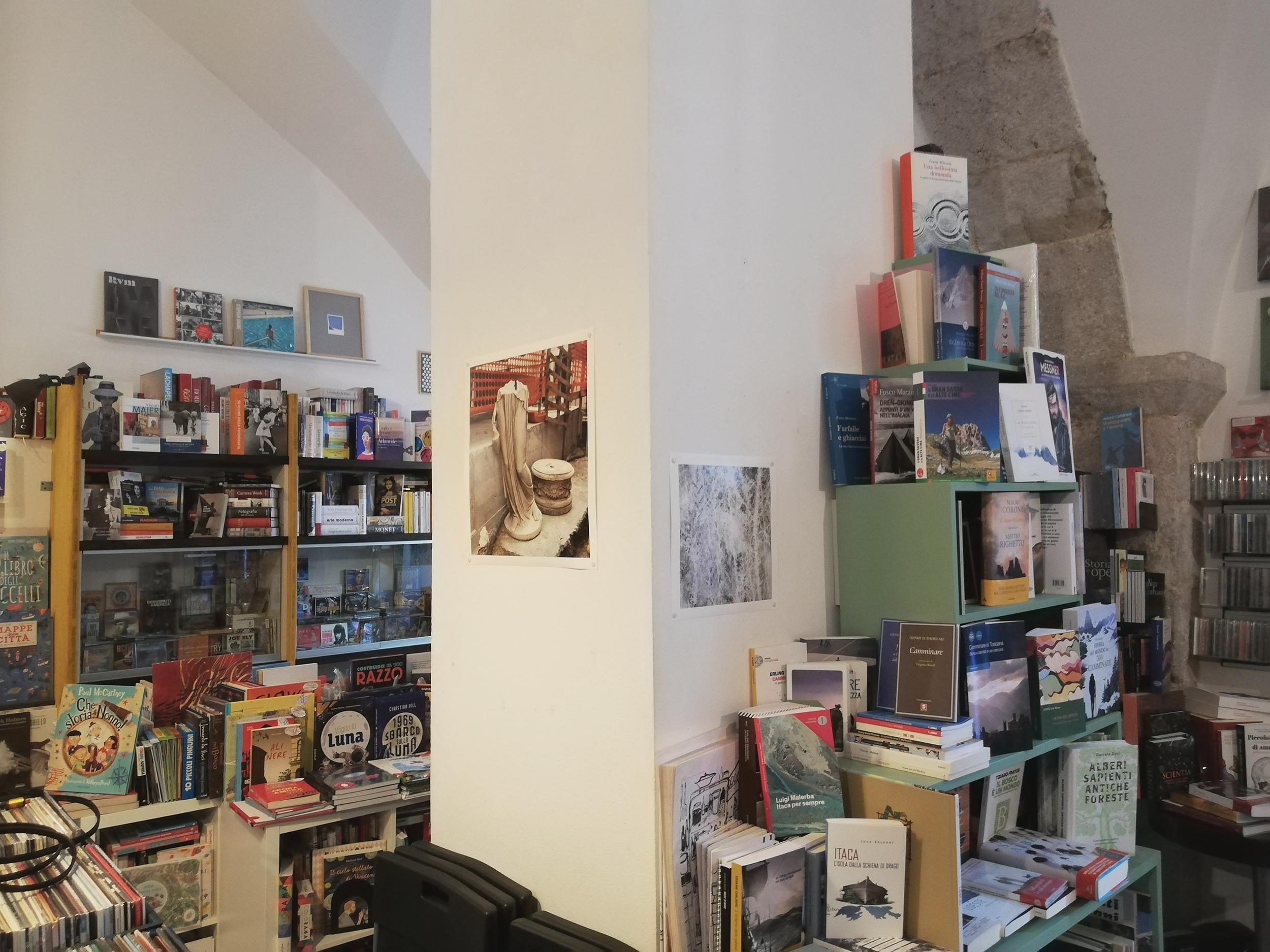 Pendulum at Polarville L'Aquila!

Documentation from the mini exhibition of the project 'Pendulum', just before the presentation of the book on the 26th of September!

September 2019
---
Polarville
It is with great pleasure to inform you that 'Pendulum' book will be presented at the bookstore Polarville based in L'Aquila, the 26th of September at 18:30! If you are in Italy, come!

Press:
News-Town,
Radio L'Aquila1

,

Il Centro

,

Virtuquotidiane



September 2019
---
Athens Art Book Fair 2019
'Pendulum' goes to
Athens Art Book Fair
with dear
Zoetrope

,
amongst more self-published books, by Yannis Hadjiaslanis, Alexis Vasilikos, Yorgos Yatromanolakis, Alexandra Saliba, Michael Almiroudis and Ilias Lois.
7-8th September, 12:00-21:00
Stoa Kairi 6, Monastiraki
Athens, Greece
September 2019
It's Nice That
"Pendulum" is featured in a beautiful article, on
It's Nice That
Magazine, by Rebecca Irvin.
August 2019
---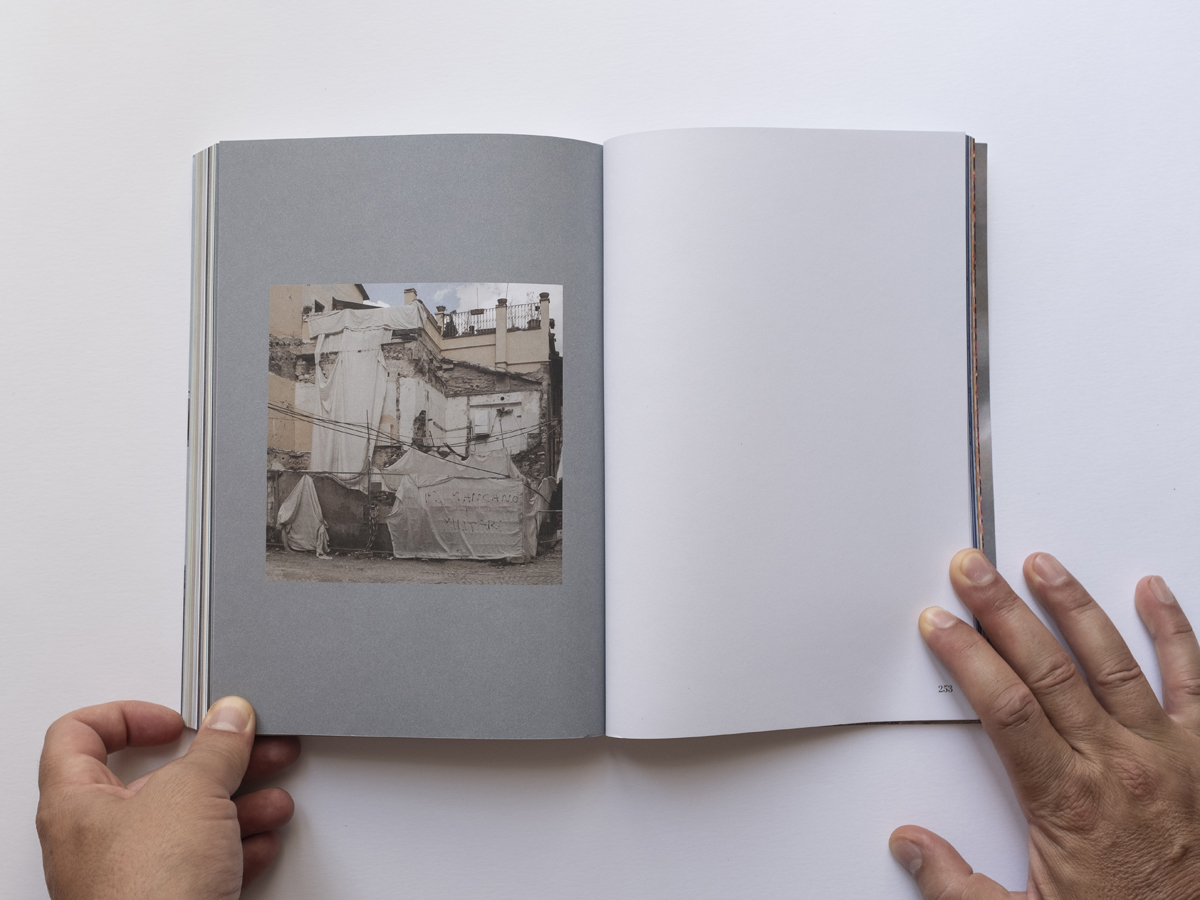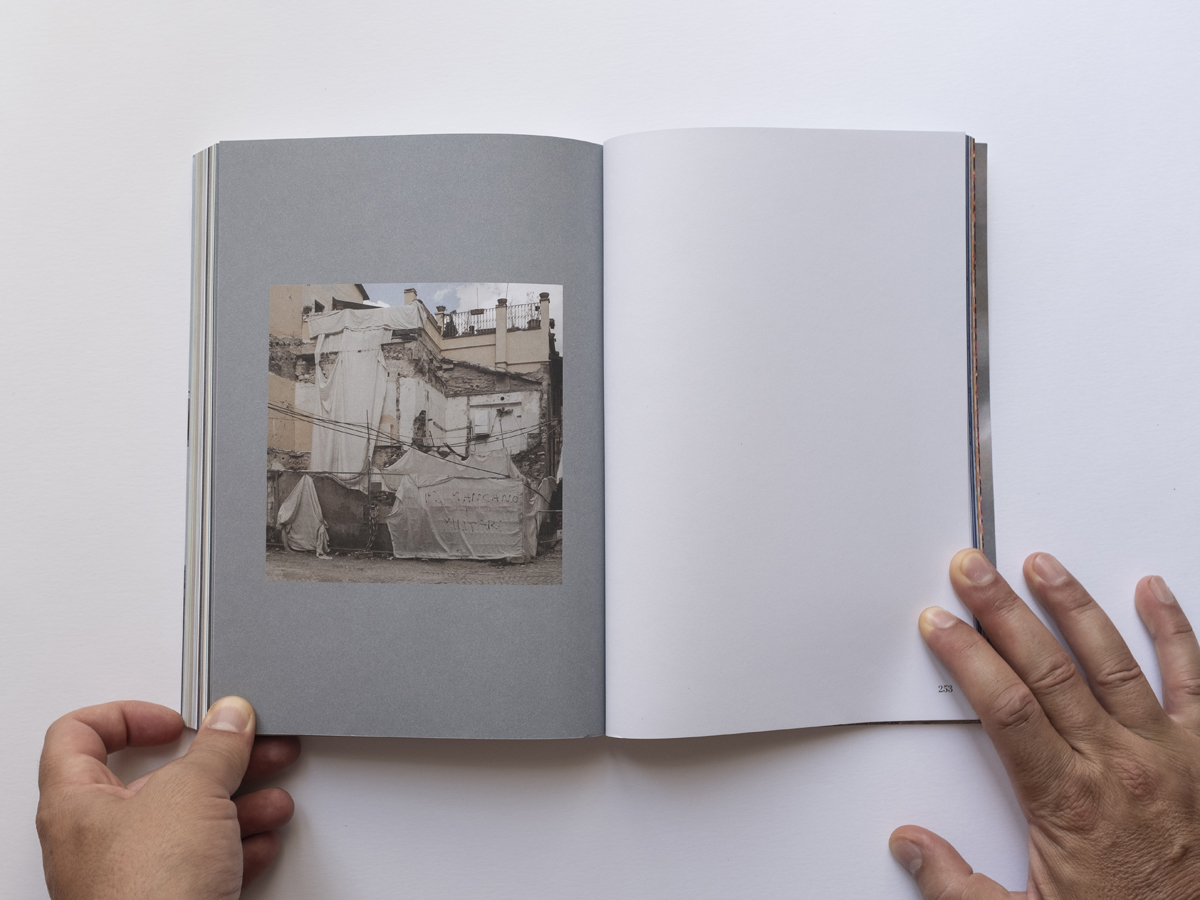 C41 Magazine
"Pendulum" is featured in
C41 Magazine -
issue 8 "Memory"
, a Milan-based magazine of contemporary visual art from all over the world.
Featuring:
Daniel Everett, Studio Formafantasma, Daniel Eatock, Max Siedentopf, Fausta
Bolettieri & Gianlorenzo Bolettieri, Leandro Erlich, Alecio Ferrari, Carlo Banfi, Andrea Chronopoulos, Greg White, Filippo Telaro, Ryan Duffin, Yuki Kappes, Laura Thompson, Stefania Orfanidou, Riccardo Fantoni Montana, Alberto Guerrini, Parker Day.
July 2019
---
GUP
"Pendulum" on
GUP Magazine
, Amsterdam, with a short intro by the editor!
July 2019
---
Sikinos

"Pendulum" will travel to Sikinos at the old school of Kastro village for a short exhibition,as part of the recent exhibition of Plateau034 - An exploration of greek self-published books, organized by the Athens Zine Biblioteque and Zoetrope!

Dates: 31.07.2019-01.08.2019
Place: Sikinos, Cyclades, Greece

July 2019
---
---



Plateau 034 / Meet the self-publishers



An

open discussion with the self-publishers

about their books, at the closing of the exhibition Plateau 034. This Sunday 30/06 at 19:30. Join us for chat and wine!






This Thursday 27/06 at 19:30, at Zoetrope, Kimolou 17 Kypseli, 11362 Athens.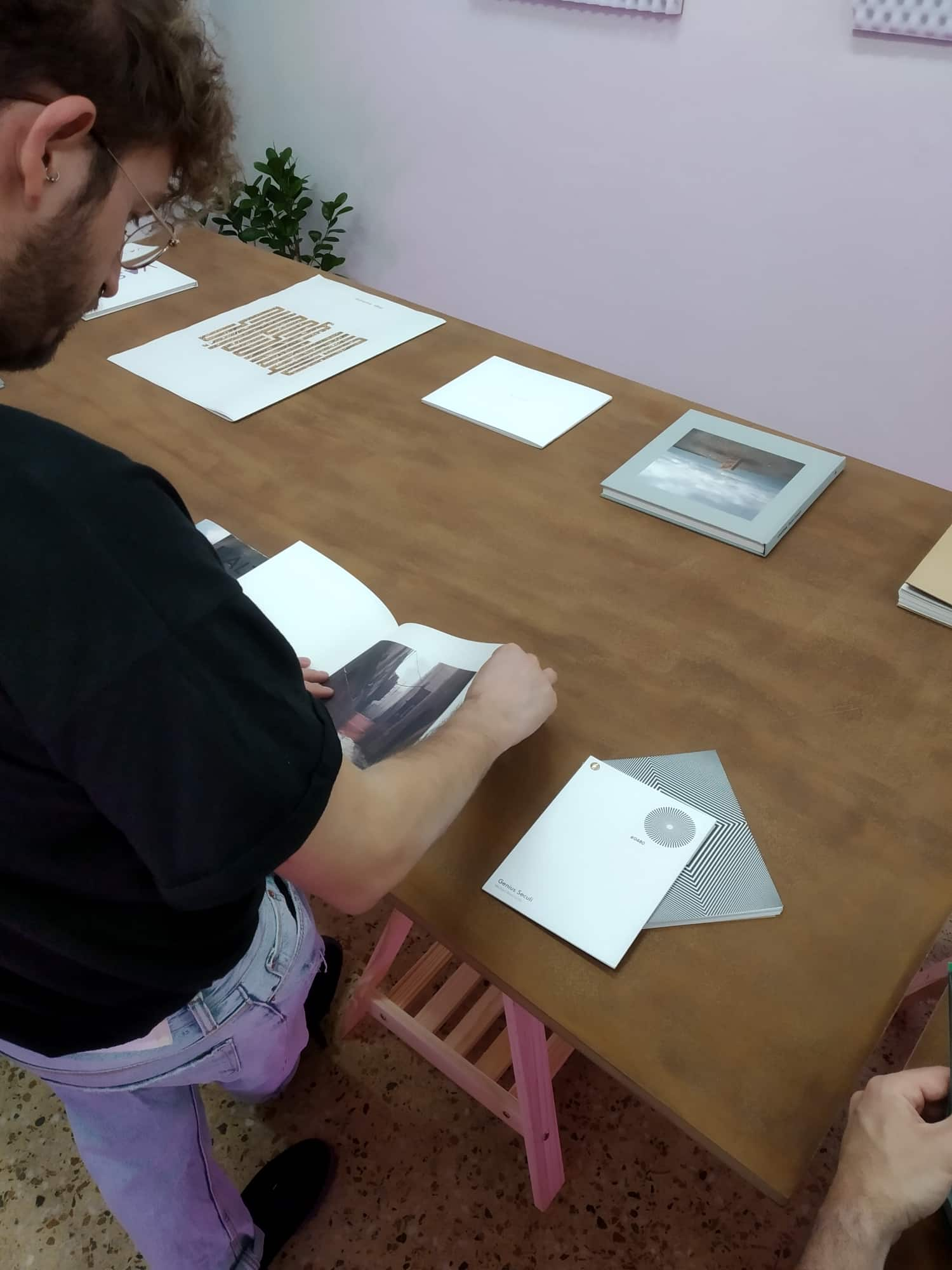 Athens Photo Festival 2019


Pendulum at the
Photobook exhibition
of Athens Photo Festival!
Don't miss the chance to have a look at it!
Duration: 13.06.19 - 28.07.19
at the Benaki Museum, Pireos 13, Athens, Greece
June 2019
---
---
Kiosk of democracy

Pendulum on Kiosk of democracy!

June 2019
credits: Antonis Theodoridis


credits: Michaels Almyroudis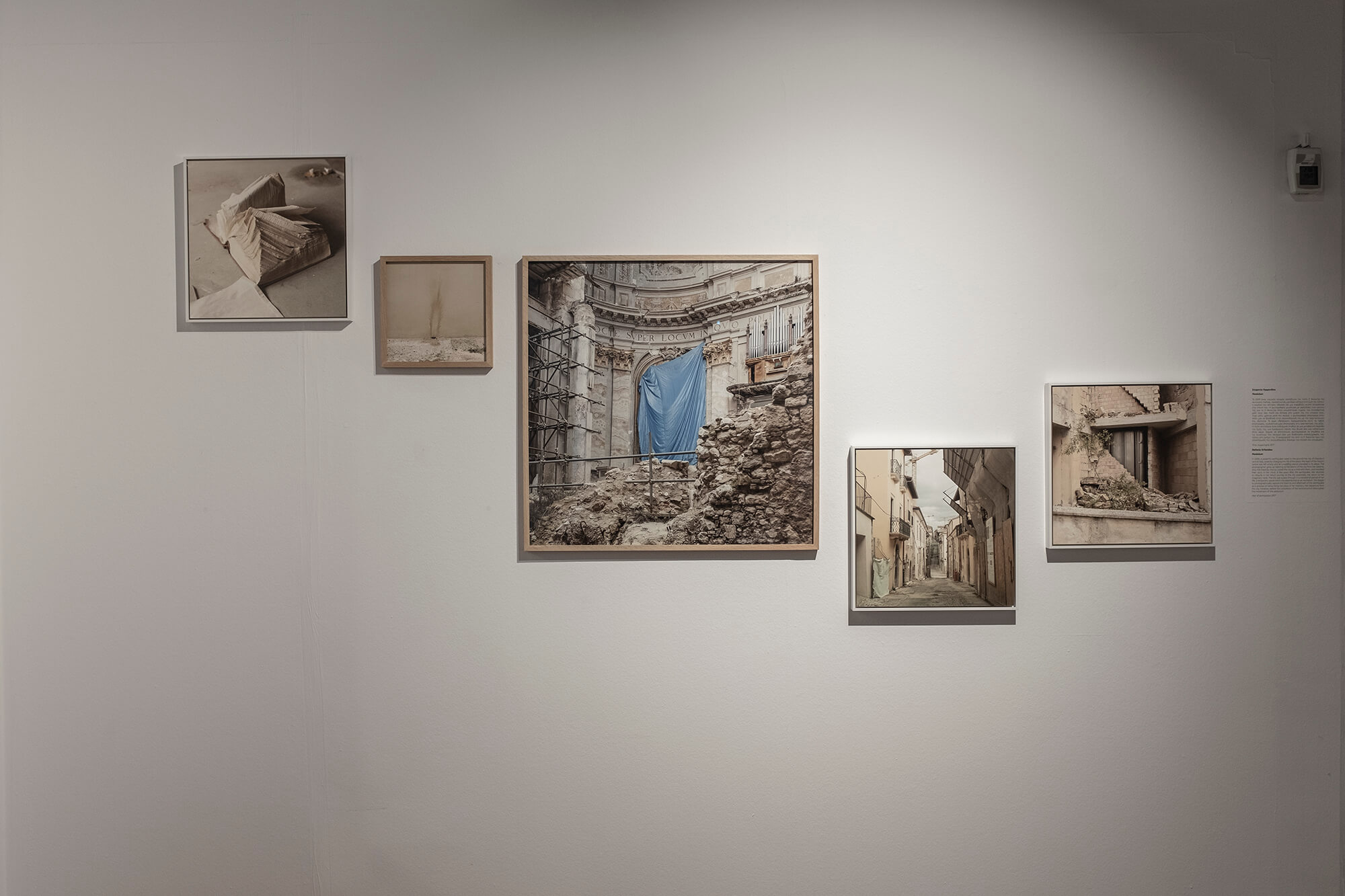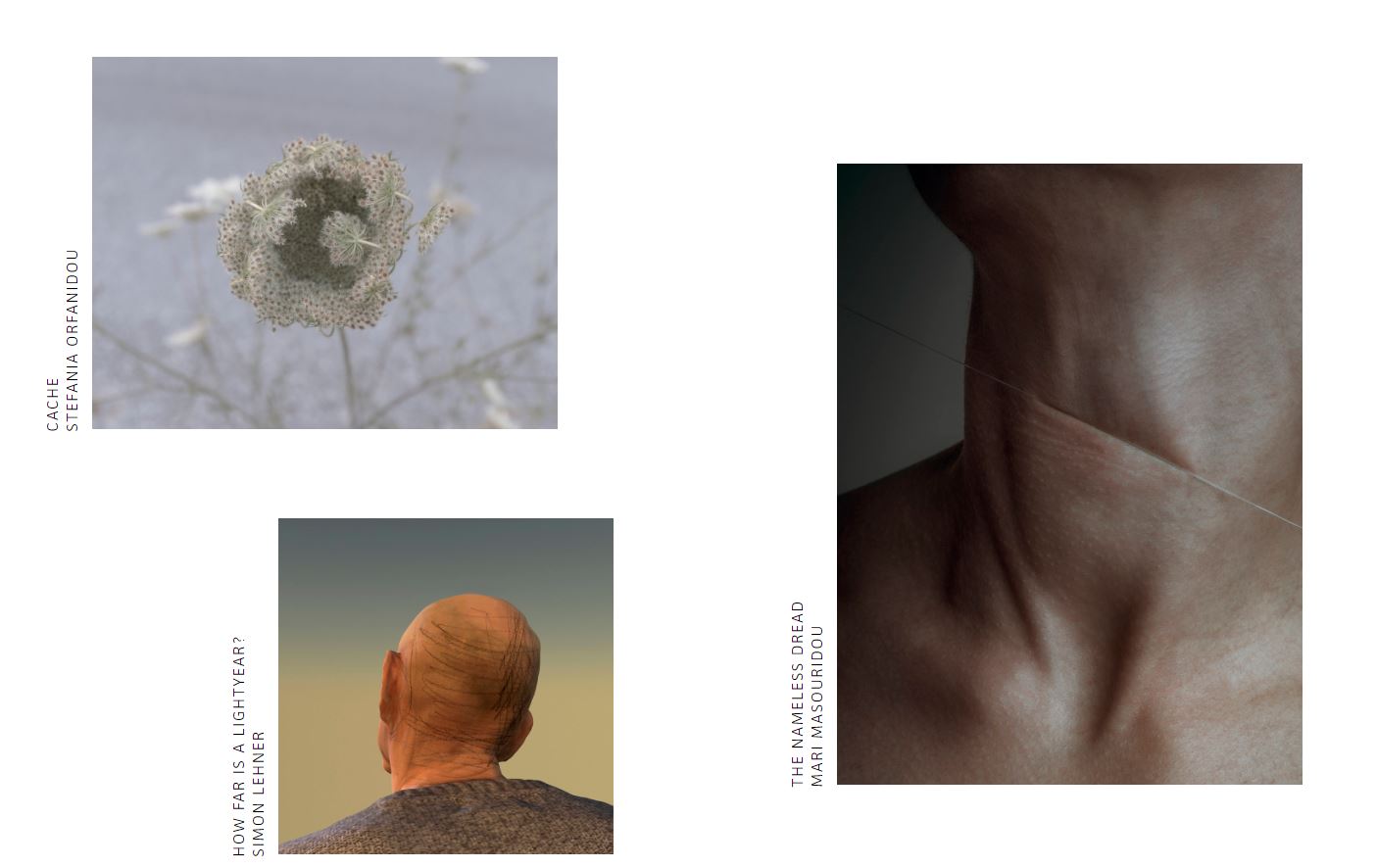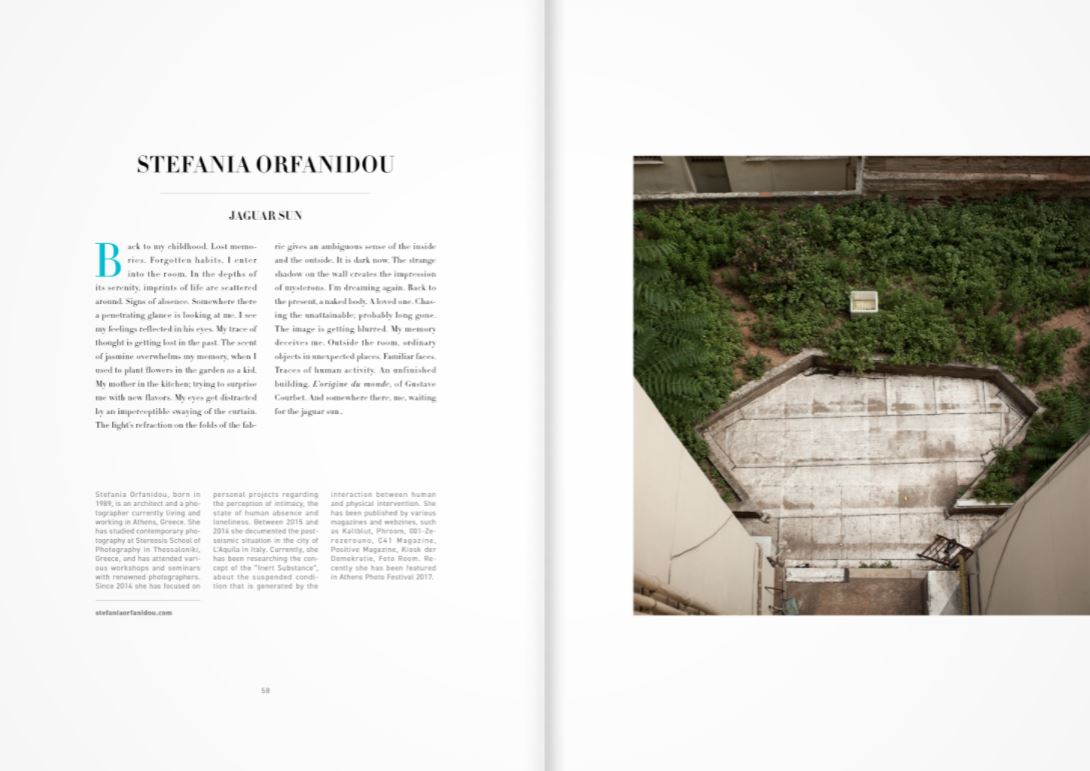 ---